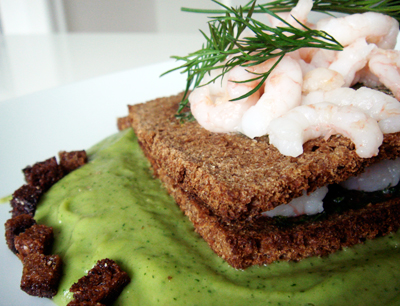 This is the dish once known as rugbrød lasagna.
If you are not Danish then you must know that rugbrød is what pasta is for Italians. Many of my good Danish friends had some comments about the previous name. It sounds to me they were claiming that there was something wrong in putting together the 2 words "Lasagna" and "Rugbrød". Ok, maybe is too early. I have renamed it into Millefoglie. That also describes, in Italian, something that is made of many layers. A little bit more posh maybe.
I had a funny conversation with a friend of mine visiting me in Copenhagen. He is a researcher, bio engineer working in the field of proteinomic. He was here with his "Big professor" and I don't remember why the three of us ended up talking about the fact they had found out that beans and shrimps match together and create a nice taste. The day after I saw Simone Rugiati, on the sat TV channel Gambero Rosso, building up something with some bread slices.